There is no time too soon to begin instilling good oral hygiene habits in kids. Oral health contributes to a happy and healthy life and good dental habits learnt early, tend to stick. Teaching children good dental habits from a young age is more important than ever with an increasing amount of tooth decay amongst kids.
At Beaches Dental Mona Vale, we're very fond of our littlest patients. In this article, we discuss why it's important to teach children good dental habits early on. We'll also share some information on what a good dental hygiene routine looks like for little ones.  
6 Important Reasons to Teach Kids Good Dental Habits 
Gentle oral hygiene should begin when your child is a baby. By toddler age, they will be accustomed to the actions associated with a good oral health regime. Your child will need your help until they're about 8, and after that should be supervised to ensure a good job gets done.
Builds Lasting Good Dental Habits
Children are very influenced by their surroundings in their early years. Because of this, habits and behaviours are easier to introduce and integrate. Habits (good or bad) learnt early on in life do tend to stick. So, it pays to take advantage of your little one's formative years and teach them good habits that they can take through life.
There is no need to hold off on teaching your child good dental habits until you feel they can understand you. Little minds process and grasp more than you know! Take toothbrushing for instance. It's an easy dental habit to instil in your child early. Lead by example and show them how you brush your teeth and why it's important. Including a little song and dance is a proven technique! 
Considering habits become ingrained in children by the age of 9, there's no time to waste in building long-lasting good dental habits.
Promotes General Health and Well-Being
Oral health plays an important role in our general health and well-being. It's every parent's wish to give their child the best opportunity at a long and healthy life. Teaching your child good dental habits early on is key to achieving this. 
It is important to teach your child what's involved in protecting their teeth and gums from decay and gum disease. Evidence has shown the impact of oral diseases extends beyond the mouth, contributing to serious illnesses.
It goes without saying that a healthy smile also does wonders for one's self-esteem and confidence, which are directly linked to one's well-being. Good dental habits picked up early will promote a healthy smile that can last a lifetime.
Decreases Dental Anxiety
There are many reasons why teaching children good dental habits when they're young can counteract dental anxiety. In a study conducted by the University of Adelaide, findings concluded that 1 in 6 adults in Australia have dental-related anxiety, and that bad childhood experiences were one of the main reasons for this. 
A child that can observe and adhere to good dental habits from a young age is more likely to have well looked after teeth. As a result, visits to the dentist can often be a positive experience needing minimal major or intrusive treatments.
Getting your child into the habit of regular dental check-ups from the get-go is also a great way to familiarise them with the dental environment. It allows them to build a relationship with their dentist who can monitor their oral health for the long run. 
Prevention is Better Than Cure
Giving your child a good start with their dental health will minimise the risk of them developing serious dental conditions in the future. These may include decay, gum disease and tooth loss. Teaching your child good dental habits that they can practise from early childhood will reduce their chance of needing complex, costly and painful dental treatments. 
Sometimes people don't realise how important check-ups of baby teeth are. These early visits allow your child to become familiar with their dentist who can detect any early dental health issues.  It's important to remember that regular dental check-ups allow for early detection and treatment of what may become major dental issues later on. They can save a lot of time, pain and money in the future. 
Dentists are Here to Help 
At the end of the day, dentists are trained and qualified to be able to help people achieve their best oral health possible. When good dental habits are formed early in children, including regular check-ups, it helps create positive feelings surrounding your family dentist and matters of oral health. 
Their dentist should be someone they can grow to trust and rely on to guide them to optimal oral health. And their oral health regime should be an important part of their day, rather than a chore they'd rather not do. 
Good Dental Habits for Babies and Children
Ok, so we've covered why it's important to create these good dental habits in children as soon as possible. But what exactly creates these good dental habits? What does good oral hygiene for kids look like? Read on to find out!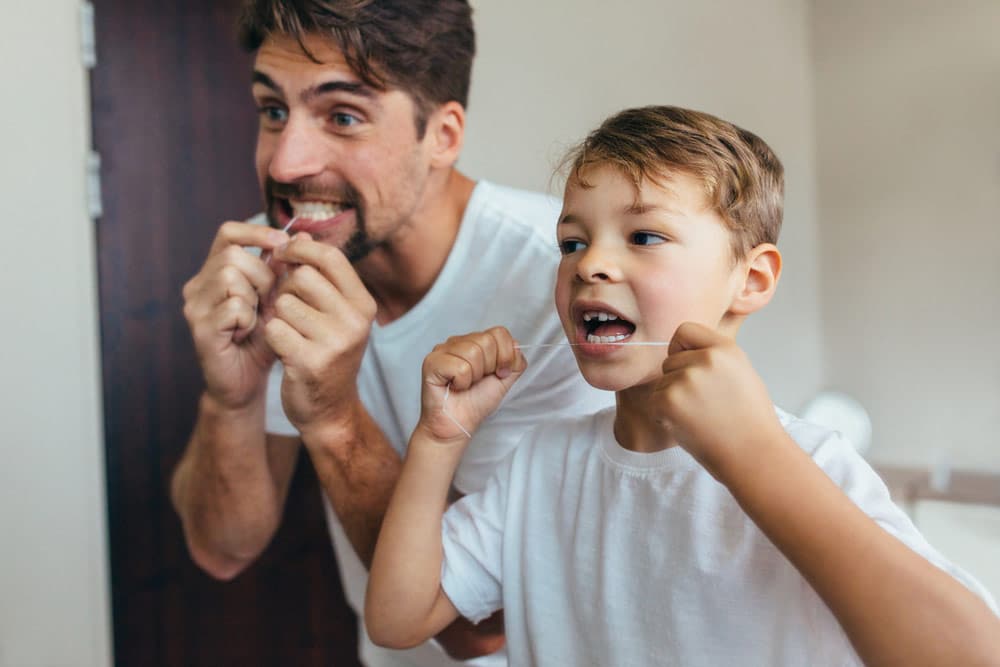 Oral Care for Babies and Toddlers
When babies are born, they already have all their baby teeth. They are hidden within their gums, making them invisible until they begin to erupt at around the age of 6 months old. Considering healthy teeth are supported by healthy gums, it's a good idea to start maintaining your baby's oral health before their first tooth shows. 
Here's how: 
Until your baby's teeth show, dampen a soft cloth and use it to wipe your baby's gums after feeding to remove bacteria.


Once your baby has teeth that are visible you can begin to brush their teeth twice daily with a soft-bristled toothbrush and water. Babies do not need to start using kids toothpaste until they are 18 months old. From 18 months, toddlers can start using less than a pea-size amount of kids fluoride toothpaste. This ensures there isn't excess toothpaste that they can swallow.

Toddlers should avoid falling asleep with a bottle of milk to help reduce the risk of tooth decay. Rather brush their teeth before bed and if needed, a bottle with water in it may help to have during the night. if needed.
When your baby has their first birthday, the time is right for their very first dental appointment.
Oral Care for Children 
Usually, by the age of 3, children will have had all their baby teeth (primary teeth) erupt. These teeth begin falling out at around the age of 6, at which point their adult teeth (permanent teeth) start to come through. Most permanent teeth are present by the age of 13. 
At around the age of 3, your child will be able to help you brush their teeth. It's important an adult does the first part of tooth brushing. But it's good to encourage your child to have a go at brushing after you, to help them work on their technique.  It's a good idea to start getting them familiar with brushing and flossing at this age and understanding why it's important. 
Here's how: 
Ensure your child brushes their teeth twice a day for two minutes using a pea-sized amount of fluoride toothpaste. Encourage gentle brushing in circular motions and get them to spit out the excess toothpaste after brushing.

Introducing flossing, especially before their adult teeth erupt, can be helpful. This is because baby teeth often do not have as tight contact as adult teeth. Children will need help to start with. Laying them on a bed and sitting/standing behind them can give you a great view of their teeth and where you need to put the floss to floss for them.

Your child should visit the dentist for a check-up on a 6-monthly basis. 
Children's Dentist in Mona Vale
Our family-friendly dental practice in Mona Vale welcomes kids of all ages. From your baby's first dental appointment to monitoring your pre-teen's bite development to extracting your teenager's wisdom teeth – we've got you covered. We have many years of experience in children's dental care and have built long-lasting relationships in our community with our existing child patients now bringing in their own children. We aim to create happy dental experiences for children in our relaxed, warm and gentle environment. 
Habits formed early are very difficult to break. So, it's very beneficial to build good dental habits in children as soon as possible. And we're here to help you. Contact us to book your child in for a check-up with one of our friendly dentists.